Cashmere is soft, warm and cozy. But where does it come from? Why is it so expensive?
 Cashmere Goats
Cashmere comes from the old spelling of Kashmir. Any goat can produce cashmere. But goats who grow high quality cashmere are called cashmere goats. Cashmere goats produce authentic, luxury cashmere. Hello sweaters, hats and scarves!
Cashmere is the soft undercoat of goats. Interestingly, cashmere is actually hair and not wool.
Much of the market's cashmere is from China and Mongolia. But cashmere goats are found in other places, too, such as Australia.
Wear & Care of Cashmere
Cashmere can be styled many ways. In the cozy cashmere set, a white cashmere sweater from J. Crew is paired with a navy silk and cotton knotted skirt. Premium cashmere is warmer than sheep's wool, hence it's cozy quality.
What makes cashmere expensive is the labor and cost that goes into preparing the cashmere for yarn and industry. It takes time and money to keep the goats healthy and maintained. Top-level cashmere is combed and sorted by hand. It takes the hair of at least two cashmere goats to produce a 2-ply sweater.
Cashmere garments can last a long time with proper care. Here are some tips to help you care for your cashmere.
Wash by hand with mild detergent in warm water.
Do not place cashmere under running water.
Do not wring out water. Press out and blot excess water.
Do not stretch wet cashmere.
Do not apply direct heat to wet cashmere. Lay garment flat to dry so it keeps its shape.
Fold and do not hang cashmere garments.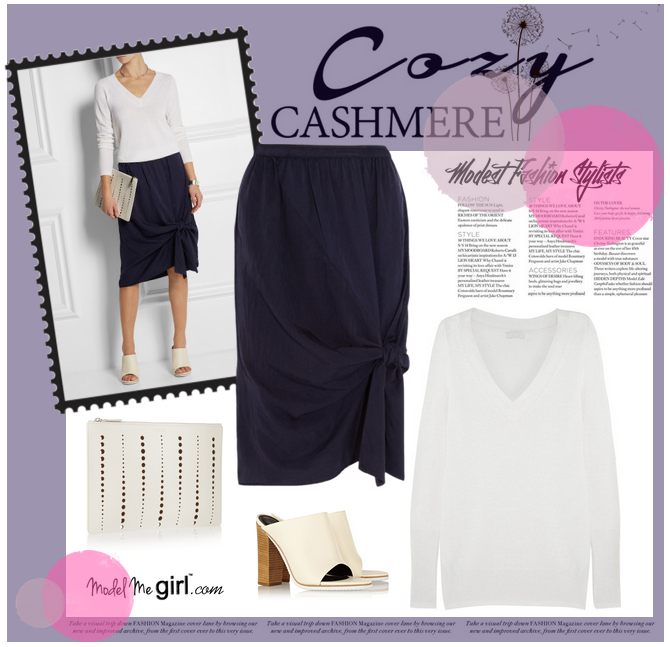 In the Set:
CLU Knotted silk and cotton-blend skirt
J.Crew Collection cashmere sweater
Tibi Bee leather mules
Jil Sander Large Open White Perforated Leather Fine Envelope
Items:
Loro Piana Cashmere sweater
Barneys New York Cashmere Scarf
Duffy Striped cashmere sweater
Equipment Asher cashmere sweater
Equipment Sloane cashmere sweater
Collection cashmere chunky turtleneck sweater
Autumn Cashmere Stripe Beanie