Street fashion or street style reflects what everyday people wear on the streets versus the trends passed along from studios and designers. In fact, street style may influence designers and show up as street fashion trends. It's part of what we call popular and contemporary culture. Whatever is popular is mainstream. Street fashion is typically urban, youthful and stylish, and may be part of a subculture.
In the Street Style in Lemon and Gray set, I included a soft, fully lined gray tulle skirt with the very edgy gray and yellow burnout jumper with sheer mesh cutouts by Alexander Wang. On a modesty note, the burnout jumper can be modest-fied with a long or short sleeve top underneath. Pumps, flats or sandals need not apply. Bryan Blake high-tops in yellow and white get my approval.
What's your definition of street style?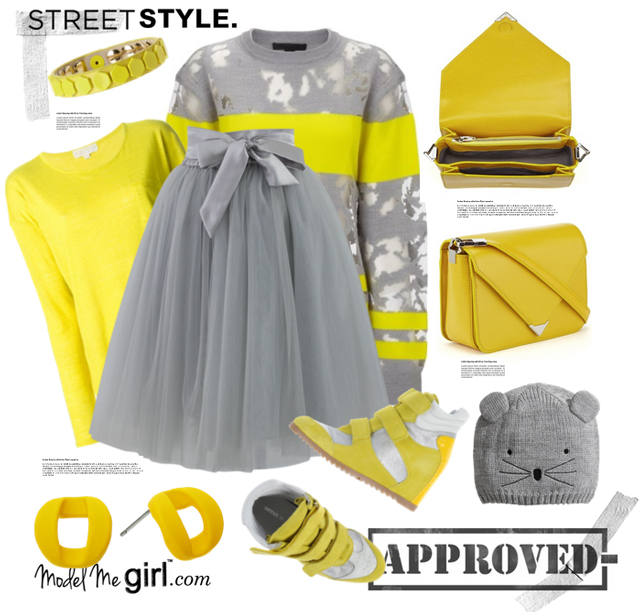 In the Set
»» Marc by Marc Jacobs Dtm Bolts Leather Bracelet
»» Chicwish Amore Tulle Skirt in Gray
»» Michael Kors loose fit long sleeve T-shirt
»» Alexander Wang Gray Burn Out Mesh Jumper
»» Bryan Blake High-tops
»» H&M – Wool Ski Hat – Gray melange – Ladies *different style
»» Marc by Marc Jacobs Link To Katie Rubberized Stud Earrings
»» Alexander Wang Prisma Envelope Small Sling Bag