From fashion to beauty, this season's trending color is a bold, intense red. Red lips dominated the Spring 2013 collections at Prada and Rocha, and bright red dresses lit up the runways for Ralph Lauren, Christian Dior and Diane von Furstenberg. Red can be elegant as it evokes timeless beauty with hints of contemporary passion. Plus, unlike some trendy colors, the right red will continue to look great year after year.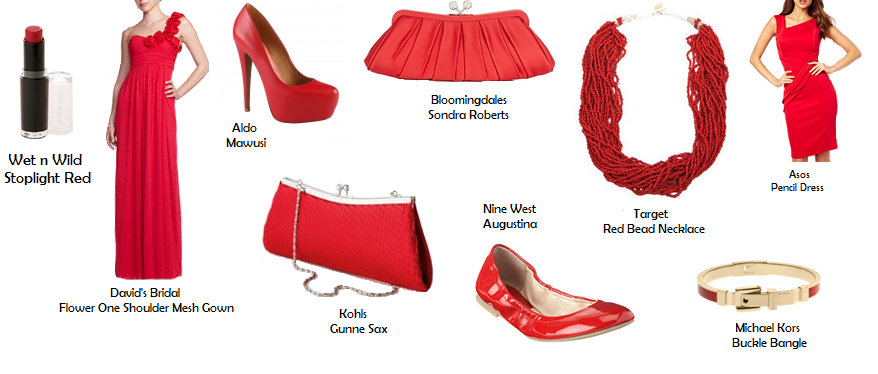 1. Pair matte red lipstick with minimal makeup to keep your look modern.
Apply a coat of foundation to your lips to boost lipstick's staying power, and
then lightly fill in your natural lip shape with a red lip liner. Sweep on your favorite red lipstick, like Wet'n' Wild's MegaLast Lip Color in Stoplight Red, and blot. Add a coat of mascara to your lashes and a quick dusting of nude blush to the apples of your cheeks, and you're ready to go.
2.
Steal the show in a rouge dress.
This vibrant color can make you the star of any room you enter, whether it is a prom, date, or night of on the town with the girls. Some retailers, such as Asos and David's Bridal, allow you to browse dresses by color so you can find the fit that best suits you.
Unbroken, vertical lines makes your body look sleek, so opt for an empire waist and flowing fabrics, like the combination in David's Bridal's Flower One Shoulder Mesh Gown to elongate your silhouette. If you want the mid-length, below-the-knee fitted dress that flatters your legs– go for the Asos Lipsy Structured Pencil Dress. Pair with nude shoes to make legs look even longer, or opt for a pair of matching red heels, like Aldo's Mawusi pumps, to showcase your playful side.
3. Add a pop of color with red accessories.
Red pairs well with staple wardrobe colors like black, white and navy. It
can be worn just as beautifully with silver jewelry as it can with gold.
Punch up a little black dress with a red clutch, like this Gunne Sax by Jessica McClintock from Kohl's or a Sondra Roberts clutch from Bloomingdale's. Introduce a crocheted red bead necklace from Target, or Nine West's Augustina ballet flats to a knee-length denim skirt and a solid color t-shirt for a stylish, casual look. When you need a piece that transitions flawlessly from the work day to the evening look, opt for classic, understated choices, like this gold-tone red epoxy buckle bangle bracelet from Michael Kors.
Heat things up by choosing red this season. Whether you fall in love with red lipstick, a red gown, or the perfect red accessory, you'll look great and be on-trend.
 • This article was contributed by Tiffany L.