If you are a rectangle, your body shape is the most common among women. Forty-six percent of American women are rectangle. This shape is also called ruler, straight and banana.
Kate Hudson is an example of a rectangle. Curvy or full-figure ladies can also be rectangles.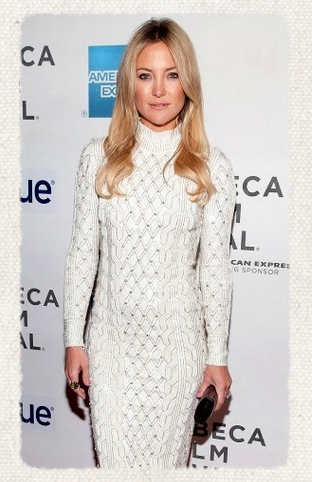 Description
•Bust, hip and waist measurements are nearly the same
•Waist is straight and not very defined
•Typically has a small bust, but not always
•Backside tends to be more flat than round
•Not many curves
• May appear to have more of an athletic or boxy look
•Straight legs, but may be shapely
•Straight shoulder line
Add Balance
One woman may want to celebrate her awesome athletic look by wearing a fitted sheath, classic shift or shirt dress. These silhouettes reinforce the rectangle shape.
Another woman may want to create curves that aren't naturally there on a rectangle shape. You can modify the appearance of your body shape and add curves with certain types of clothes. This is what we call adding balance.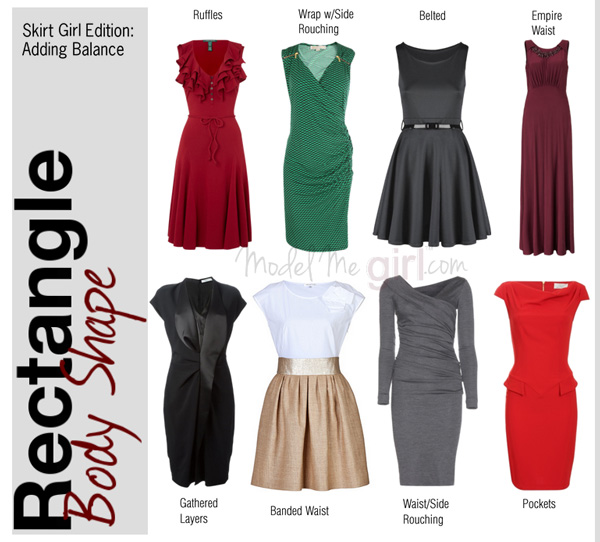 Ruffle dresses are your friends, especially if worn near the bust or shoulders. Other dresses that suit your body shape include the wrap dress; dresses with rouching or cinching, especially on the sides (hips); gathering at waist & bust-line; dresses with a flared skirt and empire waist. Belted and banded dresses work especially well because they add definition to your waist. Dresses with front or side pockets look great on you, too.
Modest Fashion Styling Tips
The rectangle shape tends to have a straight shoulder line. Some stylists suggest opening up the neck area by showing cleavage. But it's really not necessary to wear a deep-V just to draw attention away from your shoulders. You have the option of wearing a nice V-neck, sweetheart neckline or scoop neck dress that doesn't dip too far down. If it does dip more than you'd like, a nice cami or smooth tank underneath can solve some modesty issues. Modesty4Me has high-neck camis. No pulling and tugging at sliding camis!
If you're worried a cami or tank may bunch underneath or add unnecessary bulk, there are clip-on mock camisoles available. I bought a pack of five from Gordman's. I'm not sure of the manufacturer, but it included a white, black, nude and 2 animal print mock camisoles.
Another tip to manage deep V-necks is to wear a statement necklace or lovely scarf. Perhaps choose a dress that has beautiful buttons, tiers or ruffles down the center of the bust area. These tips still handle the "draw attention away from your shoulders" suggestion without compromising modesty.