With parties, banquets and galas looming ever closer, we're faced with the ultimate dilemma of what to wear—Formal? Informal? Black tie? Who knows?! Luckily we're on hand to help. We've put together a little guide of what to wear to any festive soiree—from casual canapés in the office to a sit down dinner affair. From brilliant seasonal colors to fun prints, and the classic little black dress, you will have it all together.
Let's face it, you simply can't go wrong with the classic little black dress. It's an ultimate wardrobe essential. Completely timeless, the little black dress is an absolute must have. If your budget's a bit tight this month and you can't afford to fork out for a new outfit, you can always turn to your trusty little black dress. Don't worry about it being dull. There are a few clever tricks you can do to make your threads really stand out. Add a bright pop of color by wearing a nice lipstick, or use your accessories to add color. A bright pair of heels or a sparkly clutch really adds something special to any outfit.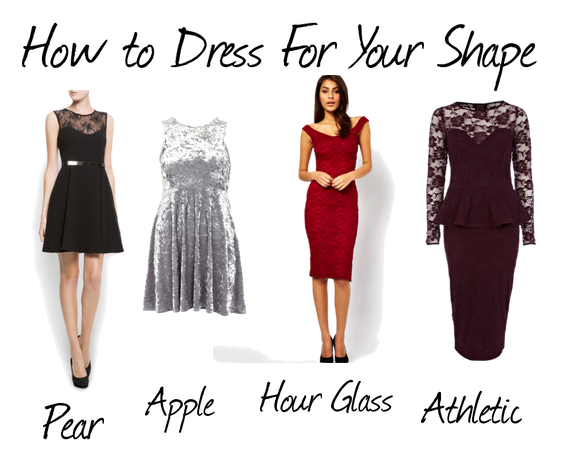 Pear
Firstly, it's important to make sure you choose a style that suits and flatters your body type. There's nothing worse than a dress that's a size too big, or not being able to fit in delicious festive food because you're squeezed into a dress that's a size too small. If you've got a bit of a pear shape with bigger hips, A-line dresses are an ideal fit for you, cleverly skimming over your lower body. A good idea is to pick a dress with a broad neckline or embellishment to draw attention away from problem areas and balance out your body. The above A-line dress from Mango is a perfect choice and the lace panel top is pretty as well as practical!
Apple
If you happen to have more of an apple shape with a bit of weight around your mid-section, then an empire line dress will be perfect for you. Avoid dresses with a clinched waist or embellishment around the middle. Featured above, the River Island Chelsea Girl skater dress would be a great choice and on trend in cool silver velvet, too!
Hour Glass
For those who are rocking an hour glass shape with a big bust and hips and a slimmer waist, be confident and highlight your fantastic curves in a cute waist cinching dress. A nice fitting body-con dress will also suit your body type, and looks fantastic teamed with a pair of chunky heels and some great accessories.  This lace body-con dress looks superb and comes in a great cheerful red color!
Athletic
Finally, for those of you sporting athletic figures (excuse the pun), you can wear pretty much whatever you like. If you want to create the illusion of a slightly more feminine shape, your best bet is to find yourself a cool puffball dress or go for an incredibly stylish peplum dress to create more shape around your hips like this cool, mid-length peplum dress from Next.
What Party Dress to Wear?
So you've got a good idea of how to dress for your shape. Now comes the difficult part of actually choosing the perfect party dress. Pick a classic little black dress or why not go for something on trend for a fashionable outfit that won't let you down. This year's autumn/winter trends offer a great opportunity to really look great. Whether you choose leather, baroque, Eastern or oxblood; you'll be the center of attention for all of the right reasons!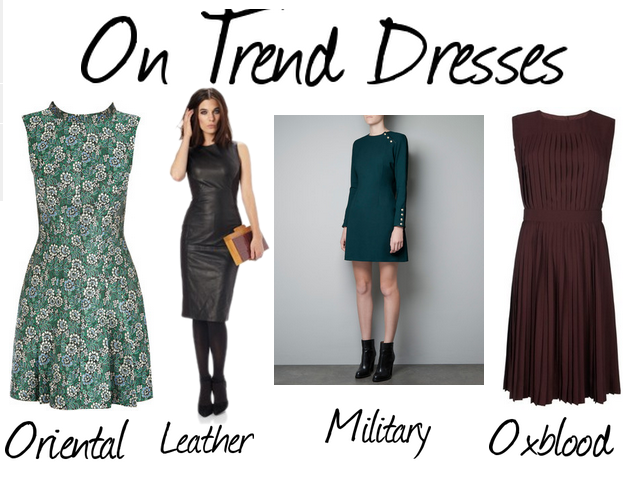 1. Oriental Jacquard Dress – Oasis – £95
Opt for oriental style like this amazing jacquard dress from Oasis. Embrace the east with sumptuous fabrics, vivid colours, oriental motifs and brilliant patterns. Team this dress with a pair of heeled boots and a great up-do!
2. Block Leather Dress – French Connection – £295
One of the most popular trends of the season is the leather trend. To work this trend, add a touch of leather to your outfit like a leather skirt or top, or be bold and try all leather. Avoid looking like Cat Woman and opt for a more fashion forward dress like this sheath dress from French Connection. Just add a cool statement necklace for a fantastic finished look.
3. Military Style Dress – Zara – £49.99
For the fashion nod of approval, the military style is spot on. Work cool military colors like black, red and khaki. Or for a cool interpretation of the trend, this cool teal dress has great military style button detailing along the sleeve and neckline.
4. Reagan Dress – All Saints – £175
Finally, one of the most wearable of this year's autumn/winter trends is oxblood. Wear it head to toe for a really dramatic look or add touches of this on-trend color like an oxblood scarf or belt. This Reagan dress is definitely on the top of our winter wish list.
Modest Fashion Tips
Don't forget there's no harm in modest-fy-ing your dress. Found the perfect strapless dress but don't want to show off too much skin? A faux fur stole will help cover you up.  Dress a little too short? Get out the sewing kit and let down the hem, and don't underestimate the benefits of a thick pair of tights!
Investment Pieces
So there you have it—a hopefully useful guide to make the decision of what to wear a little more bearable this winter. Choose a beautiful dress and cross your fingers that no one else is wearing the same one.
If you're feeling a bit more flushed than usual and want to get your hands on one of those breath-taking "investment" pieces, then look no further than the incredible collection of high-end designer party dresses that are available online at farfetch.com. A couple of our favorites include this beautiful pink Stella McCartney dress, stunning white Alexander McQueen dress, and for something really special and sparkly, this mid-length graphic printed Gareth Pugh dress is really fun!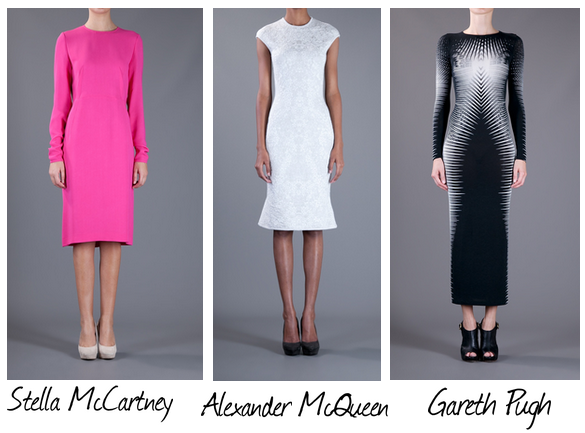 This blog post was written by Lucinda Bounsall from farfetch.com who specializes in designer dresses.