To grow means to develop, expand, increase or advance to maturity. As I sat in Bible study tonight, I thought about something my dad said. "The devil wants to kill us as soon as we are ready to give our life to Christ; as soon as we are born again, before we get strong in God and are built up."
Babes in Christ
Satan comes to kill, steal and destroy, but he especially wants to destroy us when we are new in Christ — babes. Why? Because at this early stage, our strength is small and our discernment has not had time to become sharpened. We have not yet been rooted and grounded in the Word. We are easy targets.
If you know anything about babies, you know they are vulnerable. Even in the animal world, predators seek the weak, categorized as the very young, sick/injured or the very old. Satan is a predator, and his mission is to devour as many people as possible, which includes seeking out new believers.
We are very vulnerable as babes in Christ. We need to feast on the sincere milk of the word, so that we can grow (1 Peter 2:2). The stronger we become in God, and the more skillful we become with the Word, we are able to resist the devil and easily use our Sword against him: the Word of God.
It takes time to mature, both naturally and spiritually. If you are a babe in Christ, I lovingly encourage you to indulge in the Word. If you feel you don't have a thirst or hunger for it, feast on it anyway, at the same time asking God to ignite your thirst and hunger.
If you have been in Christ for a while, you are not above being deceived and falling. You are on the enemy's hit list too, and you need the Word. There comes a time when we can move beyond milk and feast on meat — the deeper things in the Word that babies can't eat or understand because they'd choke on it.
2 Peter 3:18 But grow in grace, and in the knowledge of our Lord and Saviour Jesus Christ. To him be glory both now and for ever. Amen.
All of us need to grow. Don't be satisfied with where you are in God. Always desire to be closer to Him; to be more faithful; to be more like Jesus. A beautiful part about being in Christ is that He has everything we need to grow by — starting with grace.
Grow in the Knowledge of Jesus Christ
God also wants us to grow in the knowledge of Christ. Knowledge is awareness, familiarity, facts and information gained from experience with someone or something. There's more to know about Jesus than what you discovered the first time you heard His name; or from when you were baptized; from when He last healed you; from last Sunday's sermon; or the day He saved you from your sins and self.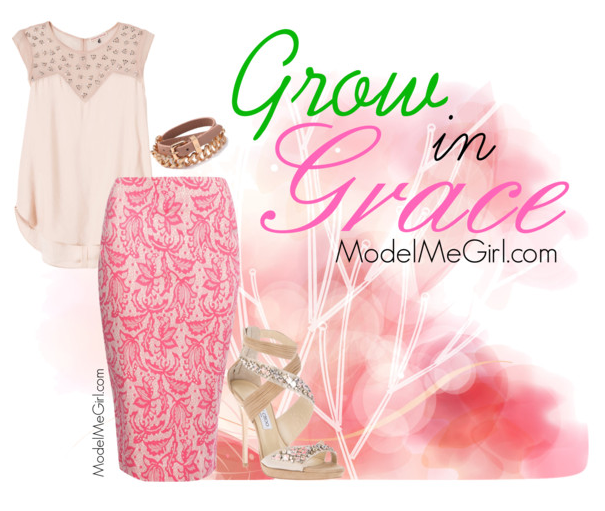 We learn more about Christ as we study and meditate on His Word, pray, fast, spend quiet time with Him, and allow Him to lead us by the Holy Ghost. Only when we are led by the Spirit of God are we the sons (and daughters) of God (Romans 8:14).
I believe Ephesians 3:17-19 sums up growing in grace and in the knowledge of Jesus Christ perfectly.
17 That Christ may dwell in your hearts by faith; that ye, being rooted and grounded in love,18 May be able to comprehend with all saints what is the breadth, and length, and depth, and height; 19 And to know the love of Christ, which passeth knowledge, that ye might be filled with all the fulness of God.
With Love,