I'm excited to introduce Little Model Me Girl: Growing Up Modest (g.u.m.) — modesty training, character development and life skills for little girls, ages 4 to 12- years-old. The Little Model Me Girl website will feature articles, printables, tips and girls fashion sets.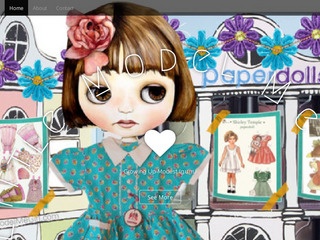 Why Modesty Training?
Little girls are exposed to the same messages from society as older girls and women. When little girls grow up, it's sometimes hard to accept modesty, even with a bible verse about "modest apparel" planted right in view.
Girls are in a continuous process of being socialized to value being barely covered as a powerful symbol of our culture, and an influential source of their own style. It's a stronghold, and is true even for girls in the church.
Once a girl believes showing excessive skin is okay, it doesn't take much to convince her that even more of it should be put on public display. Never mind God likens nakedness to shame, and He calls us to a higher standard.
God's Word expressly tells us ladies how to adorn ourselves. Hello meekness, gentleness, strength, honor…
Proverbs 22:6 Train up a child in the way he should go: and when he is old, he will not depart from it.
I know embracing modesty goes against the rules of society and carnal nature, but it is in-line with the command of God. I want to see young girls cultivating a mind and heart to please God in all they do.
Modest fashion doesn't mean frumpy fashion. We are free to be colorful and creative while obeying God's Word to dress in modest clothes.
Modesty training also includes etiquette, protocol and servitude, which are rooted in humility.
#iModelChrist
The introductory sets I created were approved by my wonderful 6-year-old niece, as she sat and watched me create Little Model Me Girl fashion sets.
She's often watched me work on Model Me Girl, and expressed she wants to be a Model Me Girl, too. In a sense, Little Model Me Girl is for her, and I'm willing to share what we learn with you and the little girl in your life. My niece is in modesty training. She is grasping, "We don't model the world. We model Christ." The way she puts it is, "I know how to dress properly."
Modeling Christ is the foundation of Model Me Girl. It's time for women of God to be the light of the world Christ called us to be, and shine a lifestyle worth modeling. One that comes with a reward of eternal life.
Wake up, ladies. Let's stop allowing the world to train our little girls. As such, I will continue to put myself on repeat and broadcast the message that God is calling women and girls to model Him, not the world.
Whether she is mother, daughter, sister, niece, cousin, neighbor or friend—six or 60— let's lift up God and inspire girls and women by modeling modesty—by modeling Christ.
God wants to start with you.