There are plenty of reasons to rave over analog cameras. Some people call them toy cameras, but they were on the scene before DSLR and camera phones turned the masses into photographers. Analog cameras added "filters" and effects to photographs before Instagram.
The lomography photographic lifestyle is fueled by the Lomographic Society International and passionate artists of every kind — from the professional and hobbyist, to the friend who shows up at every event with a camera.
The results you get from lomographic film photography can be categorized as unexpected amazement. You don't necessarily choose your effects, you're surprised by them. Light leaks are acceptable. Blurred images are common, but the photos are colorful and unique. The principle behind lomography is there are no rules —  just shoot without being bound by photographic techniques. Picture a kid with a camera. It's fun and creative!
If interested, Lomography.com has a beginner guide, interactive community and shop that are worth checking out.
I curated items in the Lomographic Influence set based on the striped colors of the La Sardina St. Tropez Graniers 35mm Wide-Angle Camera found in the lomograpy shop.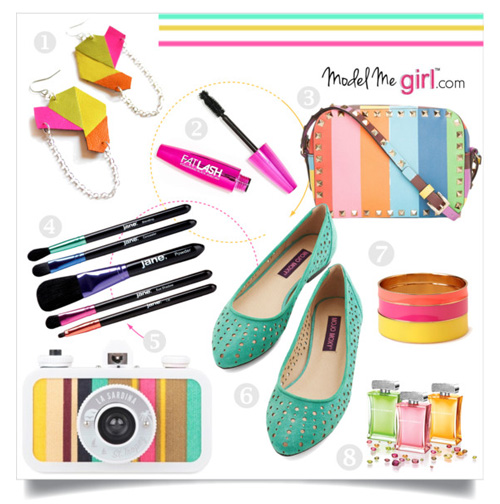 1.BOO AND BOO FACTORY Geometric Neon Earrings
2. MODELCO Fat Lash Mascara
3. VALENTINO Rockstud Striped Camera Bag
4. JANE COSMETICS 5-Piece Pro Artistry Brush Set
5. LA SARDINA St. Tropez Graniers 35mm Wide-Angle Camera
6. MODCLOTH Just a Jaunt Flat
7. FOREVER 21 Color Cascade Lacquered Bangle Set
8. DAVID YURMAN Exotic Essence Perfume