If you've heard of the idiom seeing red, you know it means to be angry. Although turning red or flush in the face can hint at embarrassment or as the result of heart-pumping activity, it's also common for people to turn red when angry. Of course I don't want you to see red. Relax and smile! We're going in the direction of red and black check patterns with the Check Red fashion set.
Red and Black
Red and black are intense colors on their own. They make an even richer statement when used together. Serious. Powerful. Mysterious. Danger. But a check pattern tones down some of the intensity and gives your eyes something to play with. The check pattern can also appear more youthful depending on the width of the lines in the pattern.
Style It
I styled this set around the red and black check dress with lace trim. The trim plays double duty by softening the dress and adding a little drama. I'm sure I'm on repeat when I say I'm a big fan of boots. The selected booties are edgy – just the way I like them.
Gold-toned jewelry polishes up the set. The tassel necklace creates a fine balance with the lace trim. Blanket coats are on trend this season. Wrap up in saucy red one or opt for sophisticated black.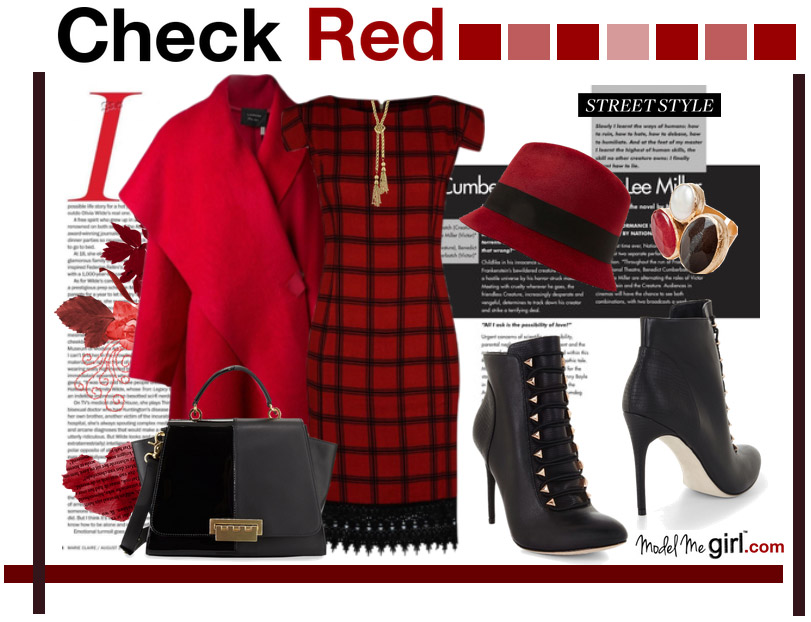 The Check Red set includes:
Lanvin Oversized Blanket Coat • $3,275.00
1928 Signature Gold-Toned Braided Chain Tassel Necklace • $48.00
Cutie Red Check Lace Hem Dress • £34.00
ZAC Zac Poen Eartha Soft Top Handle Satchel Handbag • $495.00–595.00
Inverni Velour Fedora • $99.00
Spanish & Sisters Three Stone Red White Black Ring • 35€
BCBGMAXAZRIA Bari Exotic Combo Lace-Up Day Bootie • $350.00

More Checks
What would a post be without more inspiration? Enjoy the check patterns with staple red and black pieces below.