Beauty kits can be as simple or glamorized as you'd like. Maybe you have a kit with everyday beauty staples. Or perhaps you're one with a glam kit, with everything from shimmers to color correctors.
Every now and then, there's a product (or four) that are worthy to be added to a kit. The December 2014 Edition of the Beauty Kit Prescription includes some goodies you may just want to try. They're mostly makeup goodies with some lip treatments.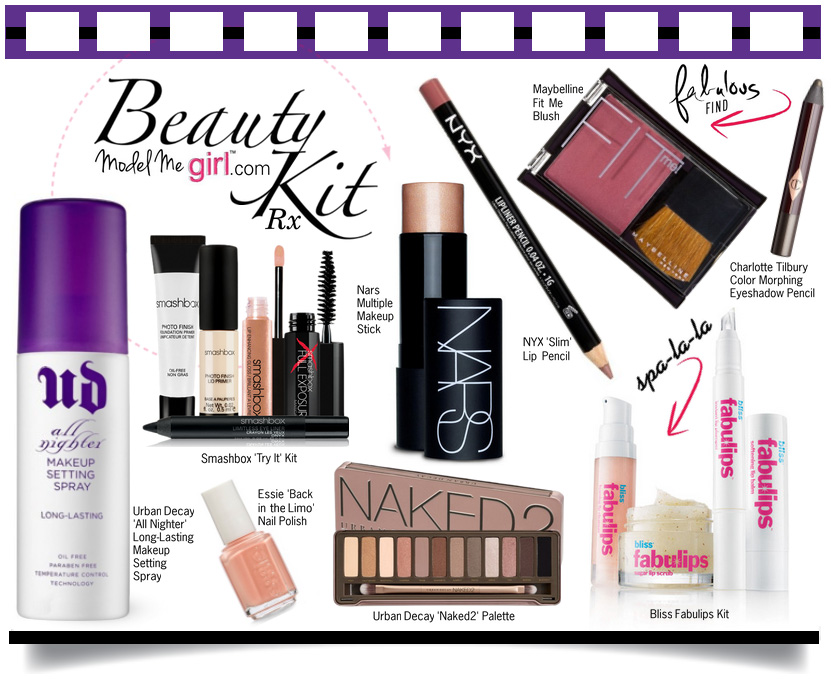 Included in the Set:
Urban Decay 'All Nighter' Long-Lasting Makeup Setting Spray • $14.00–30.00
Smashbox 'Try It' Kit ($52 Value) •  $19.00
Essie 'Back in the Limo' Nail Polish • $8.50
Nars Multiple Makeup Stick – NM Beauty Award Finalist 2012! • $39.00
Urban Decay 'Naked2' Palette • $54.00
NYX 'Slim' Lip Pencil •  $3.50
Maybelline Fit Me Maybelline® Fit Me® Blush •$3.89–4.49
Bliss fabulips Kit • $45.00
Charlotte Tilbury 'Color Chameleon' Color Morphing Eyeshadow Pencil • $26.00
Beauty Kit Rx Highlights
The Charlotte Tilbury 'Color Chameleon' Color Morphing Eyeshadow Pencil is infused with synthetic sapphire. Sounds like a great conversation piece. If you're looking to try before you buy full sizes, the Smashbox Try It Kit features some of its bestsellers:
Photo Finish
Foundation Primer
Photo Finish Lid Primer
Lip Enhancing Gloss in Illume
Full Exposure Mascara
Limitless Eye Liner in Onyx
Essie's 'Back in the Limo' polish is a sheer red-blue shade. Urban Decay's 'Naked2' Palette includes matte and shimmer eye shadows in 12 taupe-hued neutral shades.  The Bliss Fabulips Kit is spa treatment for your lips. Spa-la-la! It includes the following:
Lip cleanser
Sugar lip scrub
Lip plumper
Lip balm
Nars Multiple Makeup Stick is a multi-purpose, cream-to-powder, all-in-one stick. Apply to eyes, cheeks, lips and body for a sheer color and hint of shimmer.
What's in your beauty kit?