It's Model Me Girl's 3 Year Anniversary! Some call it a birthday, but whatever you want to call it, it's a celebration.
Although the concept and work took place well before the first post, February 13 is a special day for ModelMeGirl.com. It's the day the site went live and the first post was published. My first post on Model Me Girl is What is Modesty?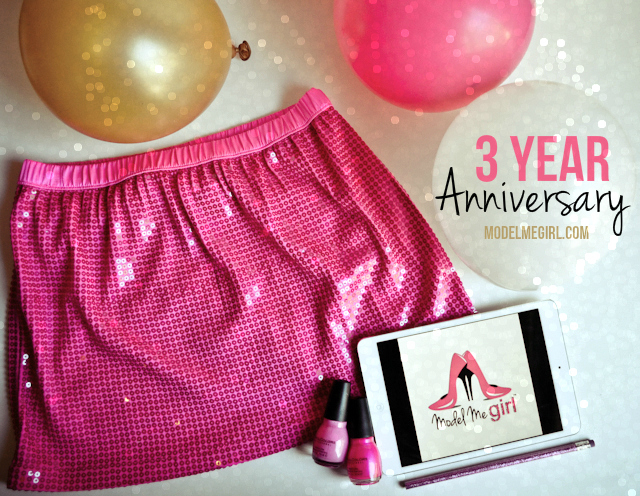 It Started with Modest Fashion

After my faith, I try to keep modest fashion in the forefront here. When I developed Model Me Girl, my primary target audience were girls and women like me — those who grew up in the church and felt a pull to emulate the world in fashion that's contrary to God's call for modesty. I wanted to show that we can be fashionable in modest clothes without sacrificing style or our integrity.
For many, fashion can be a gateway to comprising in other areas of one's life. I was that girl. The girl who knew better. The girl who backslid. The girl who was very immodest in more than fashion, but in my way of life. But Jesus Christ healed my backsliding and filled me with the precious gift of the Holy Ghost, empowering me to walk this fashionably righteous journey. What am I saying? My mind is renewed. As such, I don't see fashion the way I used to.
Beyond
Over time, I realized that my audience is beyond the church girl, but includes all women and girls who are ambassadors for modest fashion in a very immodest world and industry, or are looking for examples of modest style. When I began teaching college courses in professionalism, I saw modesty written all over the concept of what's professional and conservative. I also realized that modesty is an issue of the heart and involves more than clothes.
Overtime, I included things about beauty, health and wellness. Maybe a recipe here and there. A DIY or craft project sandwiched in. But I always go back to fashion. If you look around here, you'll notice I include posts about life and the Christian faith, often attached to a fashion set.
My Faith
I once read another modest fashion blogger's opinion about her own site. She said she puts her faith/religion on the back burner because her site is about fashion and she has advertisers. Well, this modest fashion stylist/blogger, me — the face of Model Me Girl — puts her faith first. If I can't talk about Jesus on my own site, what's the point? I share because I care. I share because I love. Model Me Girl is more than about modest fashion, it's my witness. My testimony. I am not ashamed of the gospel of Jesus Christ.
Colossians 3:17 And whatsoever ye do in word or deed, do all in the name of the Lord Jesus, giving thanks to God and the Father by him.

Thank You
To everyone who supports Model Me Girl, Thank You. I cannot express in words the depth of my gratitude. I hope you continue this journey with me as Model Me Girl grows into whatever God wants it to be. It is certainly a labor of love.