How important is skin color to you? Or should I say, how important is the absence of skin color to you?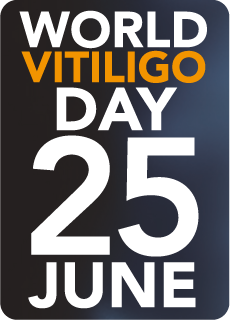 Supporters are petitioning the UN that June 25 be recognized as World Vitiligo Day. We are building awareness about vitiligo and the psychological and social consequences that can erupt as barriers in a person's life, as well as to raise funds for education and research.
The stigma of vitiligo is real. It often takes the form of a master status, or primary characteristic that shapes a person's social identity. This influences a person's perception of him/herself. In many parts of the world, people who have skin depigmentation are discriminated against or socially isolated. There are uninformed individuals who see vitiligo or skin depigmentation and confuse it with leprosy, or as something contagious.
Simply put, vitiligo is a skin condition that occurs when the melanocytes stop producing melanin, which are responsible for giving color to the skin. The result is loss of skin color, or depigmentation. This can happen due to a variety of reasons, from autoimmune deficiencies, to skin trauma from a sunburn or reaction to chemicals.
The Stigma Is Real
While I have not experienced the extensive stigmatization as those in India with vitiligo and other parts of the world do, I understand that any pronounced skin depigmentation, such as vitiligo, marks you as different. To many, the idea of something or someone being different evokes fear or confusion.
The skin depigmentation I have is on my lower legs, feet and right arm. The contrast between the white patches and "normal" colored skin on people who are brown or dark is more prominent than on people who are light or white. I know the glances, the stares. But it was seeing another woman with brown skin—an educator, like myself—who proudly wore the depigmentation of her skin as a badge of honor. I didn't see her shrink or appear overly self-conscious. I was inspired, and because of her witness, I no longer felt threatened by the stares…by the glances. I know it was God who used this woman in my life.
Understanding how someone developed vitiligo or any skin depigmentation is important. It's the first step. But knowing how to live with it is a daily effort, and is the most important part. With close friends and family, it's easy to live with. But when you face the world and looks of strangers, it's not so easy.
The medical field positions that while vitiligo poses no significant threat to the body, other than limiting the skin's protection from the sun, the huge impact skin depigmentation has on a person is with the mind and emotions. I do not believe the medical field is discounting physical medical needs; but the psychosocial needs far outweigh those.
 My Source of Strength
In 2 Corinthians 12:8-9, Paul said,
"For this thing I sought the Lord thrice [three times], that it might depart from me. (9) And he said to me, My grace is sufficient for you: for my strength is made perfect in weakness. Most gladly therefore will I rather glory in my infirmities, that the power of Christ may rest on me."
How you see things, or your perception, is key. I prayed and asked God to help me better understand His grace. Goodness, did He answer me!
How I See Me
God used my skin and the depigmentation to teach me that He and His grace are enough. My skin didn't need to change. I needed to change my mind—how I saw things. How I saw myself. I have no control over the minds of others and how they see my skin. But with Christ, I could change my perception and overcome the barriers placed before me. Even the ones I erected.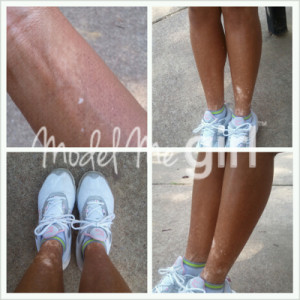 I began to see my skin depigmentation as powerful—not something to make me pitiful. It gave me a testimony and the ability to identify with others. It moved self out of the way so that the power of Christ could rest upon me.
If people see that I can still give God the glory, it's worth it. If one person's glance or stare stirs up a conversation, or if I remain silent and be read as a living epistle, the light of Jesus will shine through me and I stand as His witness. It's all worth it. If someone is inspired to not be ashamed of how they look or who they are—it's all worth it. If this depigmentation keeps me humble—it is more than worth it.
What am I saying? It's worth the cost…the price.
Learning To…
Having the depigmentation compelled me to love the skin I am in more than ever. As such, I began to love others more, and care about the everyday experiences that shape a person's identity—including being stigmatized and ostracized. I began to care about how to undo the effects of the hurt and build healthy perceptions.
I am learning to model. To model how to yield, and show God is able to change a person and the relationships they have—from the inside out. Even how you relate to yourself and society.
When I hear and read about the dark skin/light skin debates within the black community, my heart breaks. I think about women in India who are forced to flee their homes and abandon their marriages because in-laws found out the wives have vitiligo. The meaning of skin color takes on a new definition, and you see another layer of ignorance and need for education and reconciliation. This make me care even more about how we can protect our minds and hearts, and learn to not identify ourselves based on circumstances—past or present.
But how do I say this to the girl who feels like her life is not worth living all because of the condition and color of her skin? Wait. Not because of the condition and color of her skin, but because of how people react to it, and how she sees herself through their eyes?
It Is Well
If my skin color becomes uniformed again, God is great. If it doesn't, God is still great. I am not my skin color. My skin is just the shell, the covering, that God decided to drape over me. My skin color is symbolic of God's creativity. It is what it is, and I operate in the realm of reality.
As it is with shells, it is what is beneath that is the most important element. God is more concerned with my heart, my mind…my soul. So He is with yours.
Support
After being inspired by a woman with vitiligo, I asked myself how I could pass on that inspiration. The answer? By using one of the most powerful tools in my possession—my voice. I could also wear purple on June 25—the vitiligo awareness color—in support of increasing health awareness and education in the global community, and in support of those who live with skin depigmentation. I could also sign a petition in support of a World Vitiligo Day.
Will you join me? We are petitioning the UN for worldwide recognition of World Vitiligo Day. Be inspired and support those who, like me, are proclaiming: I am not my skin color.