I've heard many times your gift will make room for you. But what does that really mean?
God gives us all a gift — a natural or special ability, capacity, endowment, aptitude or talent. It's natural and is distinct from being taught a skill. Someone with a gift is typically above average in that area.
Perhaps you can draw, paint or play an instrument very well. Someone else may write, sing, sew or cook. Maybe you're good with numbers or words. Can you do wonders with gardens or work well with animals? Are you a master builder or sensational speaker?
Whatever you are naturally good at, sharpen it, use it and share it. Your gift will make room for you. Opportunities develop because someone has seen or heard about you using your gift. Isn't that what happened with King David? His gift made room for him.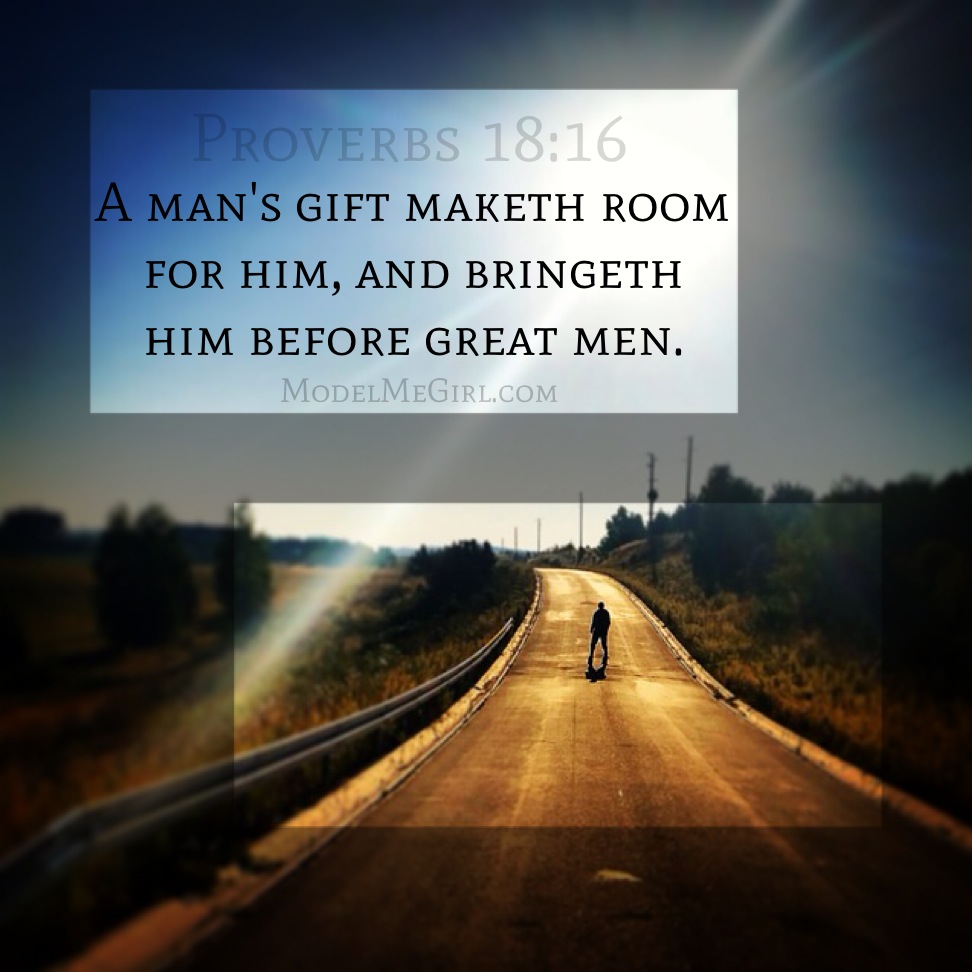 David — Skillful on the Harp
Saul was the first king of Israel, but he did not follow God with his whole heart. God rejected Saul because he was rebellious, stubborn and disobedient. As a result, Saul was tormented by an evil spirit because the Spirit of the Lord left him.  When the Spirit of the Lord leaves a person, an evil spirit takes up residence.
1 Samuel 16:14-15

14 But the Spirit of the LORD departed from Saul, and an evil spirit from the LORD troubled him.
15 And Saul's servants said unto him, Behold now, an evil spirit from God troubleth thee.
David was a young shepherd who played the harp. People heard him and recognized how skillful he was.
When Saul was afflicted by the evil spirit, one of his servants referred David because he saw him demonstrate great skill on the harp. Yet, the skill alone was not highlighted. Saul's servant praised David's character, as well. David was valiant, prudent and comely. The cunning playing of the harp was icing on the cake.
1 Samuel 16:16-19

16 Let our lord now command thy servants, which are before thee, to seek out a man, who is a cunning player on an harp: and it shall come to pass, when the evil spirit from God is upon thee, that he shall play with his hand, and thou shalt be well.
17 And Saul said unto his servants, Provide me now a man that can play well, and bring him to me.
18 Then answered one of the servants, and said, Behold, I have seen a son of Jesse the Bethlehemite, that is cunning in playing, and a mighty valiant man, and a man of war, and prudent in matters, and a comely person, and the LORD is with him.
19 Wherefore Saul sent messengers unto Jesse, and said, Send me David thy son, which is with the sheep.
David was summoned to stand before the king. When the evil spirit tormented Saul, David played music on the harp. Saul was refreshed and the evil spirit left him. Look at the beginning of music therapy!
1 Samuel 16:22-23

22 And Saul sent to Jesse, saying, Let David, I pray thee, stand before me; for he hath found favour in my sight.
23 And it came to pass, when the evil spirit from God was upon Saul, that David took an harp, and played with his hand: so Saul was refreshed, and was well, and the evil spirit departed from him.
Did David walk through pastures thinking he was going to be famous and perform music for the king? Probably not. He played because he could. God had given him a gift of music. David was a psalmist, songwriter and musician.
Your Gift
The most important thing about your gift is who you use it for. Do you use it for vain glory, selfish ambition or to the glory of God? I want you to look at Proverbs 18:16 again.
A man's gift maketh room for him, and bringeth him before great men.

See that it does not say you will be rich and famous because of your gift. It does not say that your gift will be better than another person's gift. It says it will make room for you and bring you before great men. It will open doors and give you access to people God wants to put you before.
Great Men & Women
King David is the perfect example of what Proverbs 18:16 says. His gift made room for him and he was brought before great men, including Saul's son, Jonathan. Although Saul was rejected by God and the Spirit of the Lord was upon David, Saul still held his seat on the throne for a time.
Saul was a great man by definition because he was still sitting as king, although the kingdom was being wrest from his rule by God. David's gift ushered him into an environment where he could learn firsthand the workings of governing a nation from beyond the flock to the king's domain. Although Saul was rejected, God gave him mercy through David's gift. Saul was refreshed.
We should stretch our definition of greatness. Great men and women aren't just in the realm of government and corporate board rooms. Great men and women may be behind the walls of your city's senior care homes. Great men and women may be on the sidelines in the church building.
Who are you sharing your gift with? Who have you refreshed with your gift?
Natural Vs. Spiritual
Keep in mind, natural gifts are not the same as spiritual gifts or gifts of the Spirit. Romans 12:6-8; 1 Corinthians 12:4-11; and 1 Corinthians 12:28 outline the gifts of the Spirit. Be aware you must be born again and have the Holy Ghost, according to Acts 2:38, to have a spiritual gift. It is the Spirit of God who distributes spiritual gifts as He wills.
1 Corinthians 12:11 But all these worketh that one and the selfsame Spirit, dividing to every man severally as he will.

What a blessing to have both natural and spiritual gifts to share with and encourage others to the glory of God.