When I think of natural beauty effects, I picture an array of earth tones — green, brown, tan and metallic, with hints of peach, orange, berry and earthy plums. These beauty effects add subtle highlights and textures that don't overpower the wearer. You're left with, "Wow, you look beautiful," versus "I like your makeup."
Natural beauty effects keep the focus on a fresh, lovely face and not the paint. You're drawn into the lady's eyes, smile and unique features, and not the drama of a brow or color of a shadow.
What are your perceptions of natural beauty effects?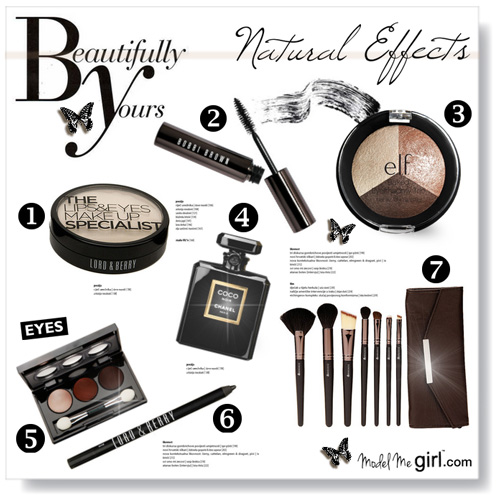 1. Lord & Berry Pressed Powder
2. Bobbi Brown Intensifying Long-Wear Mascara
3. E.L.F. Baked Eye Shadow
4. Chanel Coco Noir Parfum
5. Vincent Longo Baby Dome Eyeshadow Palette, Terrachino
6. Lord and Berry Black Eyeliner
7. Borghese Professional Select Brush Kit