Like many of you, I've looked in my closet and exclaimed, "I have nothing to wear!" While  there existed what some would call an excessive amount of clothes, I felt as though I had absolutely nothing. This nothingness was a result of not having the "right" clothes for me. Too many trends; not enough classics.
Capsule Wardrobe
I've been looking into creating a capsule wardrobe. For one, I've donated a lot, and I do mean a lot, of clothes, and my closet is still bursting at the proverbial seams. It's time to purge more and upgrade by taking a minimalism approach. Could it be less really does mean more? We shall see…
A capsule wardrobe (coined by Susie Faux) is a collection of a limited number of clothing items that are timeless, transitional and classic. The online dictionary, reference.com, defines a capsule wardrobe as:
a collection of clothes and accessories that includes only items considered essential
The key is to select interchangeable pieces that coordinate well to create a fashionable, minimalistic style. When I think of a capsule wardrobe, the terms base, foundation, building-blocks, key and staple come to mind.
There's a wealth of wonderful information about the capsule wardrobe across the web. I've found a lot of it very helpful in getting me started. With all of the information, I didn't find anything that catered to skirt girls.
 Skirt Girls
Who are skirt girls? These are ladies and women (girls as a term of endearment and not belittling) who wear only skirts, dresses and skorts. The wardrobe is sans pants and jeans. Leggings, for example, are worn under skirts and dresses with length. I am a skirt girl. It's my personal style choice and it's reflected here on Model Me Girl.
Many fashion stylists give styling tips supposing the advice translates to all women. Surprise! It doesn't. This is where I step in as a modest fashion stylist. I am in no way alienating women and girls who are not skirt girls, but welcoming the solo skirt and dress wearers who get left out of the mainstream fashion parade.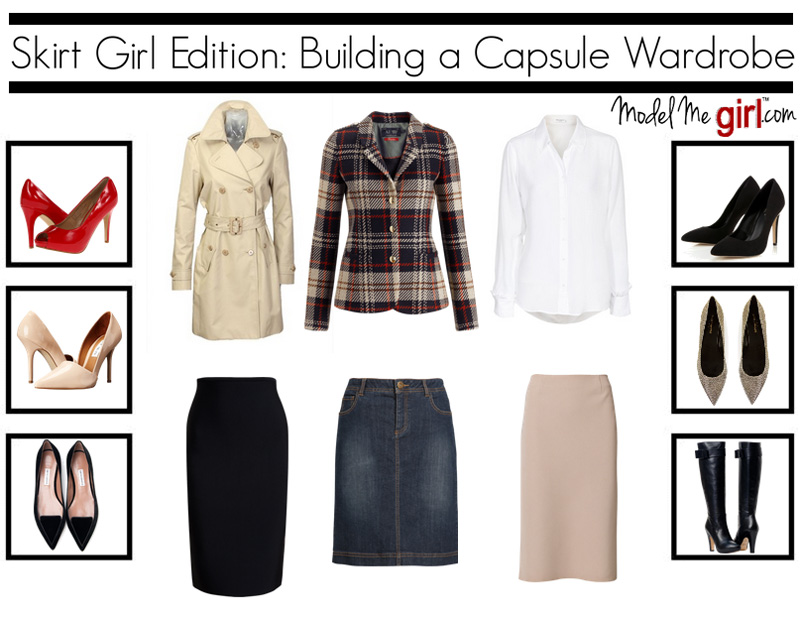 It's Only the Beginning
I hope you'll enjoy this wardrobe building exercise with me as I present to you the Skirt Girl Edition: Building a Capsule Wardrobe.
I'll give you peek into my closet and wardrobe as I update building my own capsule wardrobe—from lists, color analyses and styles, to fabrics, coordination and organization. Stay tuned!
Items
RSVP Spencer Peep Toe Pump • $69.00
STEVE MADDEN Women's Frennzy Dress Pump • $129.00
TABITHA SIMMONS 'Alexa' ballerinas •  $595.00
GUCCI White Canvas Trench Coat (different color in set)  •  $1,995.00
ARMANI Check Tweed Blazer – Black/Red • $455
EQUIPMENT Harrison Bright White Slim cut silk blouse •  $214
WHITE HOUSE BLACK MARKET Long Ponte Black Pencil Skirt (alternative selection) •  $78.00
SEASALT Eden Skirt, Midnight Wash •  £45/$72.40
MARLENE BIRGER Jeanette skirt •  £175/$281.55
LIPSY Rachael Suedette Heels •  £60/$96.53
SAINT LAURENT 'Paris' ballerinas •  $578.17
PAOLO IANTORNO Marion Black Tall Leather Boots • $329