Let's style a floral bomber jacket and denim skirt. First a little style history.
Fashion/Style History of the Bomber Jacket
The bomber jacket is also called a flight jacket. Birthed in the 1900s, the bomber jacket was initially designed for military pilots who needed something heavy-duty to wear in-flight. Bomber jackets provided much needed warmth during a time when cockpits were not enclosed. The temperature got pretty frigid in high altitudes. The jackets were traditionally lined with fur or wool, and featured high wrap-around collars.
Today, you can find bomber jackets of different materials, with or without lining. Many designers have crafted bomber jackets of lighter fabrics so we can enjoy them when it's not as cold.  Although initially designed for a very important function, bomber jackets make a bold style statement. It has a sense of cool, edginess and don't take yourself too seriously symbolism. The style and shape of the bomber jacket is very forgiving and looks great on many body types.
Style It!

This set includes the Wonder Anatomie 'Revolt' floral bomber jacket. The graphic print flowers add a feminine touch to a very edgy piece. The fabric is polyester, so it's definitely not a heavy-duty jacket. I mirrored the white collar and cuffs of the jacket by adding a basic white back-message t-shirt by Mango. I didn't want the set too dressy, so I opted for a distressed denim pencil skirt. Pencil skirts smooth out the thighs and are great for curvy or hourglass and pear figures. The pencil skirt hints at office style, but the denim tones it down.
I felt like this set needed a jolt of cobalt blue, which you can see a small amount of in the floral bomber jacket. Cobalt blue is a great color and flatters many skin tones. I searched and couldn't resist the geometric-inspired blue 'Moneymaker' peep toe pumps by Nine West and cobalt blue suede clutch bag by Tom Ford. I like how the textures of the peep toe pumps and clutch work with the smooth-textured tee.
Accessories include:
LINDA FARROW For Dries Van Noten Cat-Eye Acetate Sunglasses
MAYA BRENNER Straight as an Arrow Necklace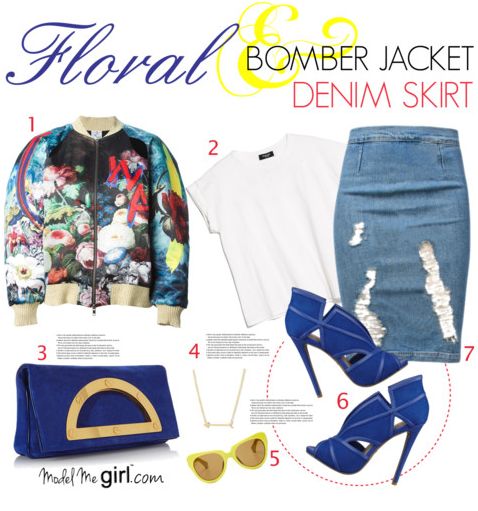 ¦ 1 ¦ 2 ¦ 3 ¦ 4 ¦ 5 ¦ 6 ¦ 7 ¦