Taming the Self-Convo: Part 3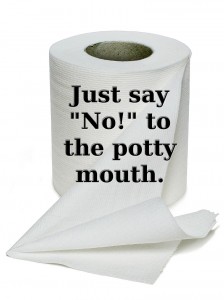 Profanity is, well…profane. After a lack of discretion, nothing mars a girl's beauty like a potty mouth. In order for a girl to be emboldened to curse anyone, she first begins cursing to herself, in the form of a self-convo. You know, going off about stuff to yourself. Insert profanity here. Substitute with profane things there.
And then there's all the profanity in the media and secular music for shock value. Tsk.
One of the most gimmicky things I've seen is trying to teach a person not to curse by using substitute words that mirror the profanity. I call this gimmicky because the substitutes for curse words do not eliminate profanity from the heart. Profanity is a heart condition. Until God takes profanity from the person's heart, how can you expect a miracle of the lips? God must change the person's desire first. The person must desire to NOT want to curse. Then ask God for His help. Expect it and simply don't curse.
O generation of vipers, how can ye, being evil, speak good things?
for out of the abundance of the heart the mouth speaketh
.
Matthew 12:34
Now let's hear all the behavioral change advocates scream, "Ask God for help?!" —Yes. God.
Think about it. Aren't most, if not all, curse words associated with filth, anger, sex, using the name of the Lord God in vain, and simply blaspheming His name?
Words are Powerful
Cursing is bitter. If you're having a problem with a bitter disposition, what are your words and self-convos like? Blessing people with our words in one moment, and then turning around and cursing them or anything the next, shouldn't be. Cursing tears us and others down.
Therewith bless we God, even the Father; and therewith curse we men, which are made after the similitude of God. 10 Out of the same mouth proceedeth blessing and cursing. My brethren, these things ought not so to be. 11 Doth a fountain send forth at the same place sweet water and bitter? 12 Can the fig tree, my brethren, bear olive berries? either a vine, figs? so can no fountain both yield salt water and fresh. James 3:9-12
Definitions
Profane
To treat with abuse, as unworthy, contempt, irreverance; to debase; vulgar use; cheapen; corrupt; pervert; poison; prostitute; warp; demean; degrade; demoralize; not holy; impure; defiled; unsanctified; secular; temporal
Profanity
Quality or state of being profane; curse; cuss; dirty word; obscenity; vulgarism; expletive
Profanity derived from the Bible means "outside of the temple." We are the temple of the Holy Ghost. That means profanity doesn't belong in us—in our minds, self-convos, hearts or words.
Example or Not?
Model Me Girls are to follow the example of Christ, and thus becoming examples to other girls and women. How can we do this inviting filth into our hearts and spewing it out across Twitter, Facebook, Instagram, texts, and through speech and hand gestures?
Do you really want you and your words to be known for being in the quality or state of being profane or poisonous, impure, cheapened, unholy, and perverted? Remember, a potty mouth mars a girl's beauty. It cheapens it and her.
The Challenge
Like Timothy, God wants us to avoid profane, or godless and foolish talk, which causes people to become more ungodly (2 Tim. 2:16). How much more will obscene language?
I challenge you to really look at the definitions of profane and profanity, and examine your conversation and lifestyle. Instead of becoming angry at these words if you are guilty of cursing, become sorrowful and repent to God, change your ways, and take back the beauty the enemy has stolen from you through profanity.
You are worth much more than cheap words. Beloved, don't prostitute your vocabulary and character for a few laughs, oohs and ahhs, and "Girl, you shole told them!" accolades.
Be beautiful inside and out. Just say no to the potty mouth.
© 2012 ModelMeGirl.com