Behold the breakfast omelette muffin! I was inspired by a recipe featured on Six in the Suburbs. Let me tell you, I could not find my muffin pan. Seriously. What's a Model Me Girl to do? –Improvise! I have two heart shaped cake pans I picked up from the dollar section at Target years ago. They're perfectly personal-sized.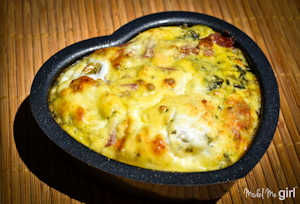 Because mine was personal-sized, I did my recipe a little differently from Six in the Suburbs. Sorry I didn't take exact measurements. I just measured and mixed everything as if I was making an omelette on the stove. Hopefully you'll understand what a pinch, splash and dash of something means.
Ingredients:
Meat of your choice (I used deli meat.)
Veggie+ of your choice (I went with Spinach.)
Diced tomatoes (Is it a fruit or veggie?) 🙂
2 Eggs
Milk
Grated Parmesan cheese
Salt, pepper and Italian season to taste
Vegetable oil
A pinch or two of baking powder
Directions:
Preheat oven to 375°F.
Brown your meat until thoroughly cooked or desired brownness obtained.
Remove meat from heat and mix in spinach and tomatoes in a bowl. Make sure you remove all the extra juice.
Mix eggs as you would for an omelette, adding milk, a small splash of oil, baking powder, and a few dashes of seasoning.
Oil the muffin or cake pan; and layer the bottom with the meat, spinach and tomato mixture.
Pour the eggs on top of the meat mixture, being careful not to cause an overflow.
Sprinkle grated Parmesan cheese on top.
Bake for 15-20 minutes or until done.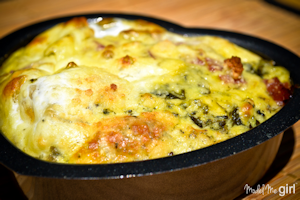 This meal was so yummy. But you don't have to take my word for it. Try it out. Use what you have in the house. The original recipe called for broccoli and Italian sausage, which I have neither here. I just used what I had, and the omelette muffin came out delicious.
To see the original recipe, check out Six in the Suburbs and follow along.
Enjoy!
© 2012 ModelMeGirl.com