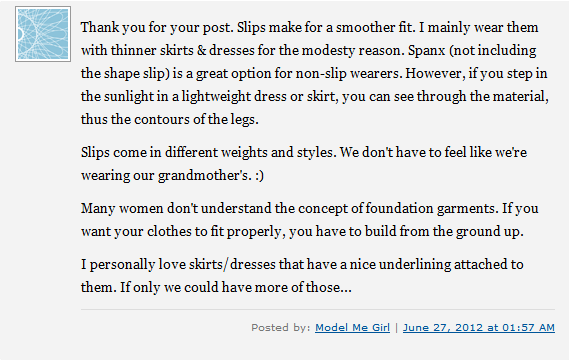 I read a post on the Modestly Yours blog called, "Whatever Happened to the Slip?" It's a really good read and prompts you to think about the question. The above is the comment I left in response to the post.
Years ago, the most popular female talk show host ever talked about the slip. I remember her speaking disdain for it. To her, it was outdated and unnecessary. Needless to say, I believe her status and influence compelled a lot of women to ditch the slip.
But oh my! I have witnessed many a girl in dire need of one—in the church, on the streets, in the mall. The stars, stripes and flowers beneath the garment was VPL (visible panty line) to the max. You get the picture.
Why Girls Hate Slips
"Grandmother, may I?"
"Yes, you may!"
Why do we see slips as grandma only attire? Is it the lace or memories of ripped slips hanging way past the hemline?
Considering the lack of propriety and modesty today, do we really care if someone can see through our clothes?
I really don't know the answer to this question. Maybe someone can help me out here.
At various times, I wonder if some of us ladies really do turn around and check out our backsides in the mirror.
All About Lighting
Some ladies grew up not knowing one of the main functions of a slip. In my house, my mother always told us girls to go stand in the sunlight to see if one of us could see through the other's skirt or dress. This meant trekking to the front door, opening it and asking, "Can you see through my clothes?"
For the ladies who are on the fast track to modesty, use natural lighting to see if your clothes are see through. It is not fun getting to your destination, standing in the sunlight or heavy lighting, and finding out you really did need a slip.
The Function of the Slip
Smooths out the ruffles, ridges, bubbles and VPL below
Helps clothes to drape well on the body for a better fit
Keeps fabric from clinging to itself, tights, hosiery/stockings or leggings
Acts as a barrier between the skin and outerwear (especially for the itchy fabric)
Adds opaqueness to thin/sheer fabric to help it not be see through
Makes for awesome sleepwear
Styles of Slips
Half-slip
Whole/full slip
Camisole & half-slip combination
Slips with and without lace trim
Slips with slits
Strapless slips
Bustless & underbust dress slips
Control, compression and shapewear slips
Slips in a variety of colors
Custom slips
Slips in different fabrics – cotton, polyester, nylon, satin, silk
Vintage slips
Slip Colors
Slips come in a multitude of colors. Yet, you really only need three colors: nude, white and black.
Nude slips – wear pastels and dark colors except for black
White slips – wear under white
Black slips – wear under black
Do You Need a Slip?
The slip is definitely on an as needed basis. I wouldn't recommend wearing a one with everything. Seriously. Denim and other heavy fabrics do not require the wearing of a slip. You are still a lady without one.
To recap, if your clothes are clinging, you just want your skirt or dress to drape better, or your clothes are see through, try a slip. It's modesty approved.
© 2012 ModelMeGirl.com