Some people are afraid of the word meek. Society has taught us to believe it means weak. But this worldly definition is not God's definition.
We are taught the synonym for meek is humble. This is acceptable in our English language. However, the closest synonym for meek is actually gentle.
Since we are to model our lives after God and not the world, let's review meek.
First, some disclaimers:
I do not claim to be as meek as I should be on all occasions. There is room for growth for all of us.
In all honesty, this post came about weeks after contemplating about a tweet I read. The person had a negative perspective of the word meek.
We always need to check our perspectives to ensure they are backed up by the Word of God, and be humble enough to make the necessary adjustments. I know I need adjustments from time to time.
The Meek & Gentle Lamb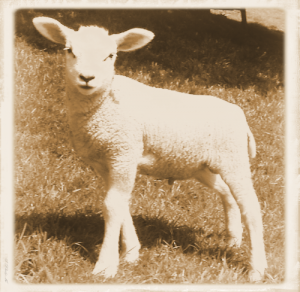 We are lambs—sheep in God's flock (and all have gone astray). Sheep are meek and gentle.
Ladies, there is nothing weak about being meek. In fact, we should strive to be so. Meakness is a fruit of the Spirit. It's interesting how Satan wants us to despise the word meek. He doesn't want that fruit cultivated in our lives.
But the fruit of the Spirit is love, joy, peace, longsuffering, gentleness, goodness, faith, (23) Meekness, temperance: against such there is no law. (Galatians 5:22-23)
Meekness is an admirable trait. Moses was very meek, more than all the men on the earth (Numbers 12:3).  What did God do with this meek man? He made him a leader.
Meek does not mean timid or lacking courage. That's the world's definition. Jesus was not timid or un-courageous. He endured the cross. Jesus demonstrated and testified of His own meekness. Now how can meek mean timid when Jesus tells us to be BOTH meek and of good courage? Meekness is not timidity.
Be of good courage, and he shall strengthen your heart, all ye that hope in the LORD. (Psalm 31:24)

Take my yoke upon you, and learn of me; for I am meek and lowly in heart: and ye shall find rest unto your souls. (Matthew 11:29)

Tell ye the daughter of Sion, Behold, thy King cometh unto thee, meek, and sitting upon an ass, and a colt the foal of an ass. (Matthew 21:5)

Blessed are the meek: for they shall inherit the earth. (Matthew 5:5)
Here's the kicker. While the world gags on the word and idea of meekness, God says that it, along with a quiet spirit, is of great price…to Him. God calls a meek and quiet spirit an ornament (1 Peter 3:4). He wants us to wear precious heart ornaments—things that are of great value in His sight.
Living It
If meekness was a coat or trendy dress, would you wear it? Well, meekness is always in fashion with God, and He wants us to put on meekness.
Put on therefore, as the elect of God, holy and beloved, bowels of mercies, kindness, humbleness of mind, meekness, longsuffering; Forbearing one another, and forgiving one another, if any man have a quarrel against any: even as Christ forgave you, so also do ye.(Colossians 3:12-13)
You see, people tend to think you're weak when you don't react the way they expect you to—use harsh words, curse, go off, throw tantrums, try to fight, react spitefully and with self-centeredness, be stubborn, unforgiving, etc. They erroneously assume they can and are walking all over you.
When meekness is absent, it's an issue with the heart and mind. Anger, impatience, self-centeredness and inconsideration are usually the culprits.
When you are meek, you care about NOT hurting other people. You are careful with the power you yield—in word and deed. Everything you do and don't do has influence.
Here's some wisdom:
You can stand up for yourself without being attacking or becoming a victim.
While seeking the Lord, seek righteousness and meekness.
God resists the proud. The proud tend to think they are self-sufficient. A meek and gentle lamb knows her need of a Protector and Helper, and submits to God.
Seek ye the LORD, all ye meek of the earth, which have wrought his judgment; seek righteousness, seek meekness: it may be ye shall be hid in the day of the LORD'S anger. (Zephaniah 2:3)
We have a job to do. While witnessing to the world, we must encourage one another—in meekness, gentleness and love.
My close sisters-in-Christ and I have this thing we do. When one of us begins to demonstrate the opposite of meekness, whether by something we're saying or doing, one of the others will give a reminder by saying, "Meek and gentle; meek and gentle."
That's all that's needed—a gentle reminder and desire to follow-through. Hopefully you have someone in your life who is serious about being her sister's keeper.
© 2012 ModelMeGirl.com