Taming the Self-Convo: Part 2
Hey, Model Me Girls! It's time for Taming the Self-Convo: Part 2. How you talk to yourself matters. Check out Taming the Self-Convo: Part 1, if you missed it.
The Alligator Girl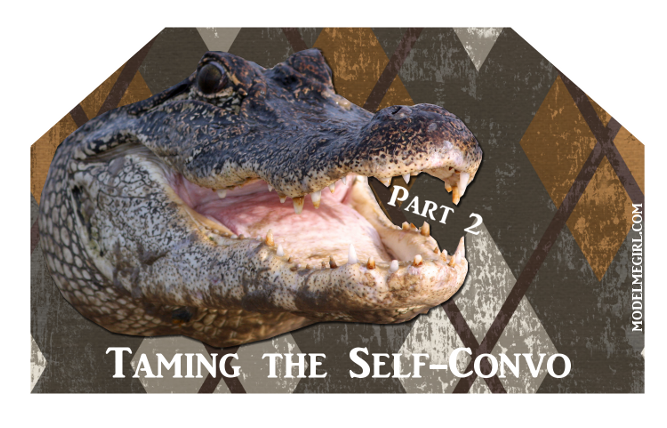 Have you ever watched an alligator doing a "death roll" on an animal show? Alligators do a death roll by spinning or thrashing with a large prey in their mouths, so that small chunks can be torn off the prey for consumption.
Some girls are like alligators doing a death roll. The difference is they may be doing the death roll to themselves. Why? Like a large prey in the mouth of an alligator, it's easier to destroy one's self in small, bite size pieces. You don't readily and easily notice just how much you're being damaged—just like how Satan chips away at people's faith—little by little.
Anatomy of the Death Roll: Self-Destructive Behavior
Galatians 5:15 But if ye bite and devour one another, take heed that ye be not consumed one of another.
We know that it is possible to bite and devour other people with words. Biting and devouring, if not checked and stopped, can result in destroying another person. This would be equivalent to an alligator doing…a death roll.
Step 1: Bite
Step 2: Devour
Step 3: Consume
Step 4: Destroy
How does a girl bite, devour, consume and ultimately destroy herself? With her thoughts and words, which fuel her actions.
Beat yourself up little by little until you are completely consumed
Have a hard time trusting yourself because you speak to yourself in lies
You mentally and purposefully sabotage your own goals and efforts by speaking defeat over your life before you've even begun
Entertain bad thoughts in the back of your mind
Tell yourself you are worthless and are nothing until you live up to and become the value you've given yourself: worthless and nothing
Just like the tail of the alligator must be flexible in order to initiate the death roll, your "flexible" tail consists of the thoughts in the back of your mind. They go here, there, everywhere—versus being controlled and focused. An alligator with a rigid tail cannot do a death roll. A girl with a focused, determined, mind that has instituted standards and boundaries in her life according to the Word of God, cannot successfully do a death roll.
Solution: How to Get Rid of the Alligator Girl
Philippians 4:8 Finally, brethren, whatsoever things are true, whatsoever things are honest, whatsoever things are just, whatsoever things are pure, whatsoever things are lovely, whatsoever things are of good report; if there be any virtue, and if there be any praise, think on these things.
Acknowledge–Be honest with yourself. Step back and take a long, hard look at yourself in the mirror. Do you do the things described under "Anatomy of the Death Roll?"
Admit & Confess through Prayer–After you acknowledge your shortcomings, (we ALL have them), take the "big girl pill" and own up to them. Admit they're yours and confess them to God. Bringing your shortcomings and failures to God invites Him to come in and fix you up. *If this is a stronghold for you, you may need to fast and pray it down.
Repent–Ask God to forgive you for doubting Him to the point you were tempted to destroy yourself with your words. Ask God to forgive you for all the destructive and hurtful things you've said to yourself.
Forgive yourself–Self is usually the hardest person to forgive. We ladies have a tendency to stay mad at ourselves for choices we've made and consequences we've had to endure. Let it go and grow from it.
Move forward in faith–Just believe God for His forgiveness, help and goodness. No one is expecting you to be flawless—just better. Being better requires faith AND effort. Faith without works is dead. So do something to demonstrate your faith.
Think on these things–Think on things that are true, honest, just, pure, lovely, admirable/commendable/acceptable and praiseworthy. Read God's Word to discover more about what He wants you to focus on and think about.
© 2012 ModelMeGirl.com. All rights reserved.